New Reader Chip Boasts Low Price, High Performance
New Reader Chip Boasts Low Price, High Performance
PHYCHIPS' PR7 system-on-chip will enable UHF RFID reader manufacturers to build handheld or fixed readers with high sensitivity.
Jul 07, 2023 
Global radio frequency identification (RFID) chip company 
PHYCHIPS
 is releasing an integrated circuit that enables higher sensitivity for handheld or fixed UHF RFID readers. The company announced its new PR7 system-on-chip (SoC) at 
RFID Journal LIVE! 2023
, which was held in May in Orlando, Fla. Several reader companies are now testing the new SoC for potential use with their products.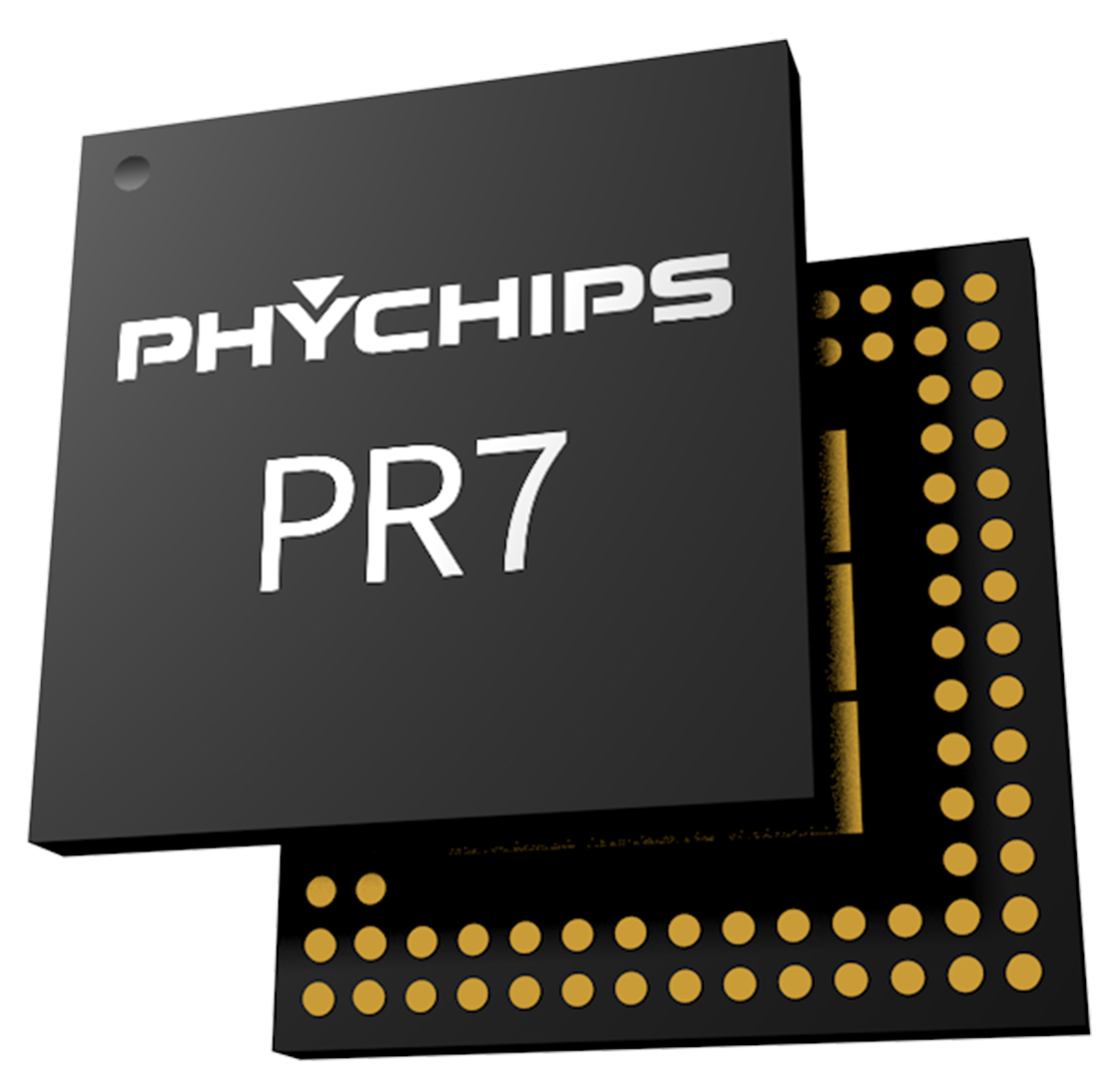 <PHYCHIPS' PR7 system-on-chip>
The goal, according to PHYCHIPS, is to offer an alternative to existing reader technologies that enables low-cost readers to capture data faster, and at a greater distance, than is possible for previous devices. Based on an
ARM
Cortex-M3 processor, the PR7 comes with the highest sensitivity of PHYCHIPS' products, the company reports, in part by leveraging a feature known as leakage removal. It supports multi-standard protocols within the UHF frequency, and samples are slated to begin shipping in September 2023, with high-volume shipments commencing in January of next year.
Building Affordable Reader Technology
PHYCHIPS was launched in 2002 by Jinho Ko, the company's founder and CEO, to develop both SoC and antenna technologies that would improve the functionality of UHF RFID readers. Technology manufacturers using the chips include
ASReader
 (in its pocket-stye readers), 
Bluebird
 (for its desktop readers), 
Anytron
 (for RFID printers) and multiple Chinese RFID module original equipment manufacturers, including 
Shenzhen RodinBell Technology
 and 
Vanch
, each of which employ the company's PR9200 in their short-range reader modules, says Rockho Jeong, PHYCHIPS' sales team project leader.
To date, Jeong says, the company has shipped 1.5 million SoC units, with sales volumes steadily increasing. The readers that incorporate PHYCHIPS' products are predominantly in the retail sector, he notes, in which small-form-factor readers can capture inventory data or accomplish point-of-sale transactions. "The technology is being used to locate goods in all stages of the supply chain, and to accomplish in-store inventory management," he explains.
In addition, the company sells its QUBE series reader-writer antenna, which measures 40 millimeters by 40 millimeters and is incorporated into UHF readers. These compact antennas were first released in 2015 and are now being used by handheld reader companies, including 
Zebra Technologies
, Jeong reports. The antenna evolved from PHYCHIPS' design service for those seeking specialized antennas with their products. Based on customer requirements, it has evolved into a product.
"The development of QUBE antennas started to support handheld reader makers," Jeong recalls. "Before using QUBE antenna, most of them were using heavy and fragile ceramic antennas." The QUBE, on the other hand, is light and more reliable, the company indicates, with the ability to sustain drops and other external shocks. PHYCHIPS supplied samples to companies and shared the design idea for handheld readers. "It set a kind of milestone of improving performance and reliability of typical handheld readers," Jeong says. The PR7's SoC predecessor, the PR9200, is being used both at retail stores and at factories where tags are applied to goods.
Raising Performance Levels with PR7
"Generally," Jeong says, "both handheld and fixed readers require high performance, including long range and multiple tag detection." This requirement can prove challenging for the PR9200, he explains, which was designed primarily for use with mobile devices. Such handheld devices typically require a shorter read range, he adds, such as 1 to 2 meters. "However, we believe that the PR7, our brand-new third-generation reader chip, will be used in both handheld and fixed readers from next year, thanks to its powerful performance."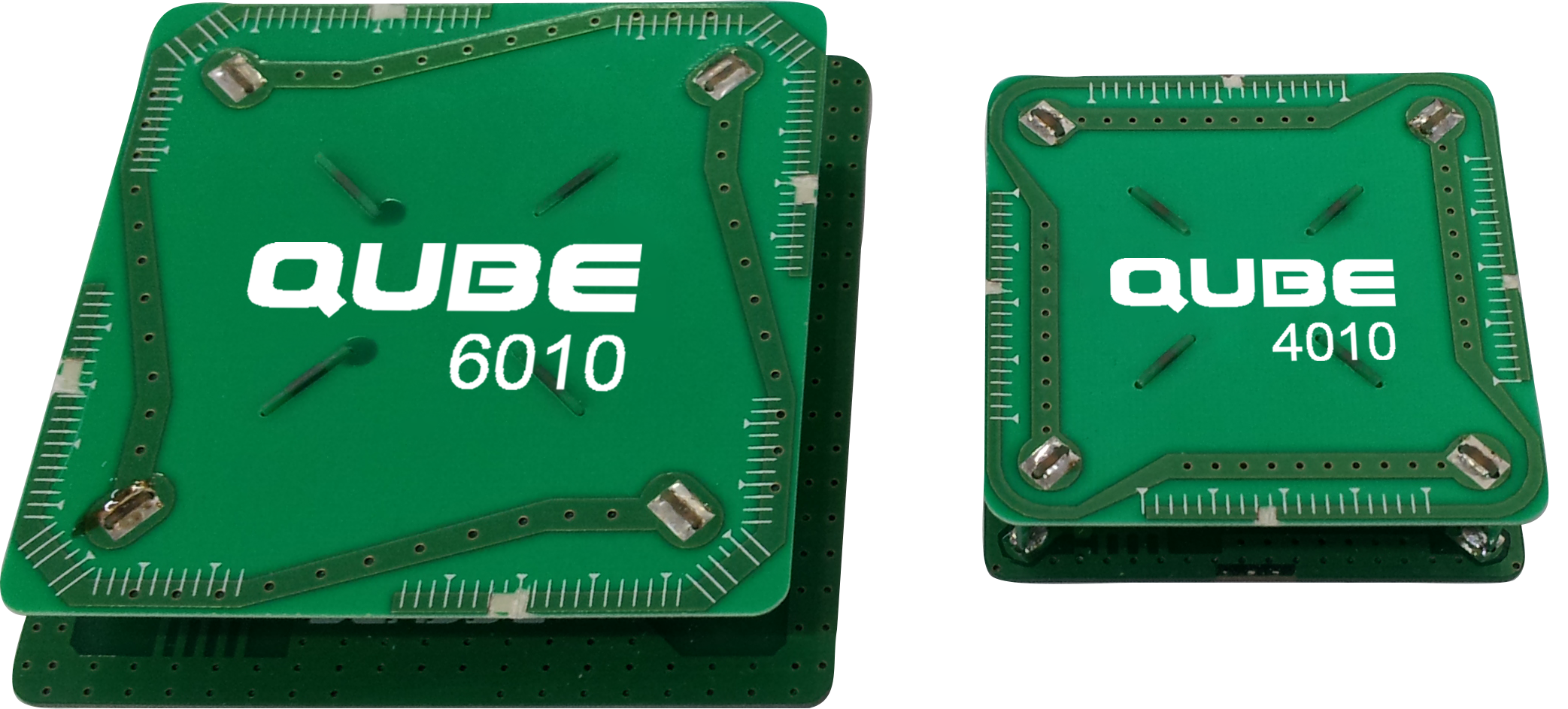 <PHYCHIPS' QUBE series reader-writer antenna>
The PR7 will be used for long-range handheld readers, as well as for printers and fixed readers. The new SoC comes with 256 kilobytes of Flash memory and 128 kilobytes of static random-access memory built in, along with multiple serial interfaces, including USB, enabling user application development without the need for an external MCU. The PR7 also includes Dual Digital Leakage Cancellation technology to identify and filter out signal leakage in various environments, enabling it to provide higher sensitivity from tag responses to interrogations.
The PR7 modem supports a variety of encoding and decoding methods, the company reports, making it possible to support not only the EPC Gen2v2 protocol, but also similar protocols based on ISO-18000-6. The SoCs are being built into PHYCHIPS' reader modules. The company's RED brand of modules are based on PR9200 reader chips, though a new WINE series module currently in development will include the PR7 reader chip. Whether the product being used is a reader chip or module, Jeong notes, "Those are essential parts for making any kinds of finished readers to various applications."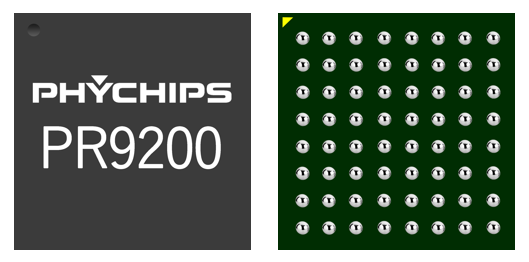 <The PR9200 device>
According to PHYCHIPS, the RFID reader SoCs have been predominantly used in applications for which price, size and power consumption are crucial. These, Jeong says, include USB desktop readers, Bluetooth dongle readers and authentication devices. With its high reading performance, he adds, the PR7 is expected to have unlimited application, contributing to a reduction of cost and form factors for handheld readers. The PR7 also supports sensor tags from
Axzon
 and can capture temperature information and moisture levels without requiring external power.
PHYCHIPS has been working with global companies as they develop products,  to address their key particular needs. "Because we spent more time before launching the PR7 to include those requirements as much as possible," Jeong states, "now we are confident that it can cover most requirements, including performance, price and technical support." The firm offers technical support to customers and can suggest various antennas, together with reader chips or modules, which includes designing and tuning the antennas for customers' unique environments.
Key Takeaways:
A new system-on-chip from PHYCHIPS is offering higher performance for fixed and handheld UHF RFID readers.
Together with the QUBE antenna, the PHYCHIPS products are aimed at making RFID reader manufacturers' products more affordable.
[Source]
New Reader Chip Boasts Low Price, High Performance (rfidjournal.com)
PHYCHIPS Inc