PHYCHIPS Unveils New ARETE RFID Readers for Phones, Tablets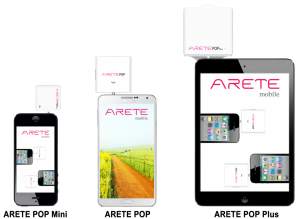 RFID hardware manufacturer PHYCHIPS is adding two new models to its lineup of EPC Gen 2 ultrahigh-frequency (UHF) readers that plug into the headphone jack of a smartphone or tablet PC: the ARETE POP Mini and the ARETE POP Plus.
The Mini, measuring 37 millimeters by 43 millimeters by 12.5 millimeters (1.5 inches by 1.7 inches by 0.5 inch) in size, offers a read range of approximately 20 centimeters (7.9 inches), while the Plus, measuring 68 millimeters by 81 millimeters by 21.5 millimeters (2.7 inches by 3.2 inches by 0.8 inch), supports a read range of up to
2 meters (6.6 feet).
The new readers, which the company plans to launch in early 2014, will join
the previously released midsize ARETE model: the POP, which measures 51 millimeters by 50 millimeters by 15 millimeters (2 inches by 2 inches by 0.6 inch),
with a 1-meter (3.3-foot) read range. All three devices are compatible with most Apple iOS and Google Android devices (above iOS 6.0 and Android 2.3.3).
(출처: RFID Journal)
http://www.rfidjournal.com/articles/view?11260